I'm here with my weekly score of secondhand treasures. One gal's trash is this gal's treasure!
My hubby and I went to an estate sale that started on a Thursday. Usually, we don't go until the last day, but I wasn't going to be home over the weekend, so we went on the first day shortly after it opened. It was very neatly organized and nearly everything was priced.
I found this old Bingo game which is in Spanish. I'm always on the lookout for vintage paper products to use in scrap booking. I paid $2 for this.
Normally, I don't pay over a dollar for an old game,
but this had bingo cards plus the smaller cards. Score!
I got this darling tea towel for $2. I love it. I'll either find a frame for it or use it as a seat cover on an old chair.
I spent the weekend with some friends and we stopped by a few antique stores. I love to look at them, but I usually cringe at the prices (I prefer to find my antiques on my own:).
I found these old patterns and paid fifty cent apiece for them. The lady said she thinks they're from the forties!
I just love vintage graphics!
Happy thrifting to you all. Thanks for stopping by and God bless.
Praise the Lord, my soul, and forget not all his benefits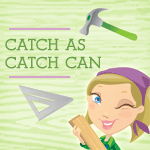 This post is linked to
Apron Thrift Girl
.