Had a pretty slow week in my thrifting adventures. On Saturday, I drove around town looking for yard sales. There weren't very many- maybe because it was a holiday weekend? The only thing I picked up was this animal cage for my husband. No, not for when he misbehaves- he'd never fit in there!:)
Just kidding. He's wanting to get rabbits and chickens- part of being
self sufficient in the suburbs
. I haven't been fully encouraging of his rabbit venture, so when I saw this cage, I thought there's no better way to support him than to buy something to help. He was so pleased with it- he said with minor modifications, it will work great. Plus, I got the seller's phone number who said she has several more if we'd like them.
On my thrift store rounds, I picked up 2 pieces of this linen fabric about one square yard each for only fifty cents. There was a whole basket full of this material, but I didn't want to pick up too much for fear it would just sit in my fabric pile. I'm trying to only pick up items I will use in the near future. (good luck on that!)
I'm planning to make a few cute pillows and a wall hanging out of this. Stay tuned- I'm pretty excited about these projects:)
My last purchase- seriously, I spent less than $2 at the thrift stores this week- is this pack of baseball card holders (12 for fifty cents). I've already used one of these in a project earlier this week (see this post).

Anything like this or things like ledger books or office supplies that are reasonably priced, I always pick up. I seriously can't pass them up. I love the challenge of using these items for other than the intended purpose.
Well, my fellow thrifty enthusiasts, that's all for this week. I have higher hopes for next week! :)
Thanks for stopping by and God bless.
This post is linked to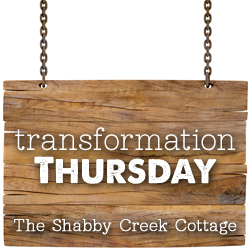 and
Apron Thrift Girl
.